Buying a condo isn't complicated. If done right, the transaction should feel the same (possibly simpler) as buying other residential real estate. The issue I am seeing as of late, especially with condos here in Miami, is how often some publications thrive in overcomplication. Make no mistake, there are several factors to consider and some fundamentals that should not be ignored, but none of it should feel like advanced algebra.
I won't overcomplicate today's post or fluff it with fancy terms. Let's jump right in and go over some of the factors I keep in mind when helping my customers find the perfect condo for them in Miami.
Condo Docs
I am mentioning condo docs first on this list because it has become common practice to ignore reading them until a buyer is under contract with the property. I am hoping this post encourages buyers to read these documents first before digging deeper on a certain property. Reading, and understanding the condo docs can be the difference between knowing and not knowing the overall concept of the condo the buyer is looking to purchase. It is also the source of data I use to better advise my customers.
This set of documents should include:
The building's declaration of condominium
Articles of incorporation and by-laws
Most recent financial information such as the building's latest

approved

budget
Rules & regulations of the building and frequently asked questions
Bonus: A copy of the building's master insurance policy ( a must if a buyer is purchasing with financing).
Buying With Financing? Get Ready to do some Research
Fannie Mae and FHA guidelines on condos are very specific when it comes to what is required for a loan to be approved. Depending on how much down payment the buyer is looking to put down, a lender will determine a project based on a full review or a limited review, the latter only applicable in Florida with a buyer that's putting at least twenty five percent down. Below are some of the items I like to check before scheduling showings for buyers
How much funding the condo is allocating towards reserves (ten percent of the budget must be allocated towards reserves to pass full review).
If there is any pending litigation in the building that would prevent a buyer to purchase with financing.
On new projects, whether the HOA has been turned over to unit owners.
If there are any special assessments in the building.
On condos that are over forty years old, if they've been certified or re-certified.
If the condo does not have enough reserves or if it has pending litigation, there's a very good chance that conventional financing won't work or that a higher down payment will be required. Knowing these items ahead of time, even if it requires some upfront research, has proven to help me avoid wasting my time and wasting the time of potential buyers.
A Favorite of Mine: Condos That Allow Rentals
A condo that doesn't allow rentals can still be a fantastic property and some condos without rental restrictions could still be problematic. But my case still stands: Whether daily rentals are allowed or there's a waiting period before a unit can be leased, I personally believe that condos that can be rented at some point are better investments.
Personally, I believe the perfect balance is found on condos that allow rentals that at least once or twice a year, with a six month minimum requirement. Three months is fine as well, and those condos are out there and we've sold them. Those buildings, thanks to added flexibility, are a better option for buyers looking for a condo in Miami as a second home.
As a real estate advisor in Miami, thinking about the future and not just the present is a factor I like to highlight to a lot of the buyers I work with. Even if that buyer is looking to purchase that condo as a primary residence, a condo that can be leased afterwards gives me peace of mind. If that buyer, for whatever reason, decides or must live elsewhere, I know I can turn that condo into an income property and not turn the buyer into an involuntary seller.
Looking For a Great View? Make Sure It Remains Unobstructed
Avoiding the loss of your balcony view has yet to happen with any of our past sales but making sure that record remains at zero requires an extraordinary amount of research. So far, the best tips I've given to buyers are:
Avoiding floor plans overlooking empty lots, even if those empty lots have been empty for decades.
Knowing the height difference between buildings that are currently under construction and avoid units on low floors that will be impacted by the construction
Look for real estate that is right on the water, overlooking parks, or single family neighborhoods with height restrictions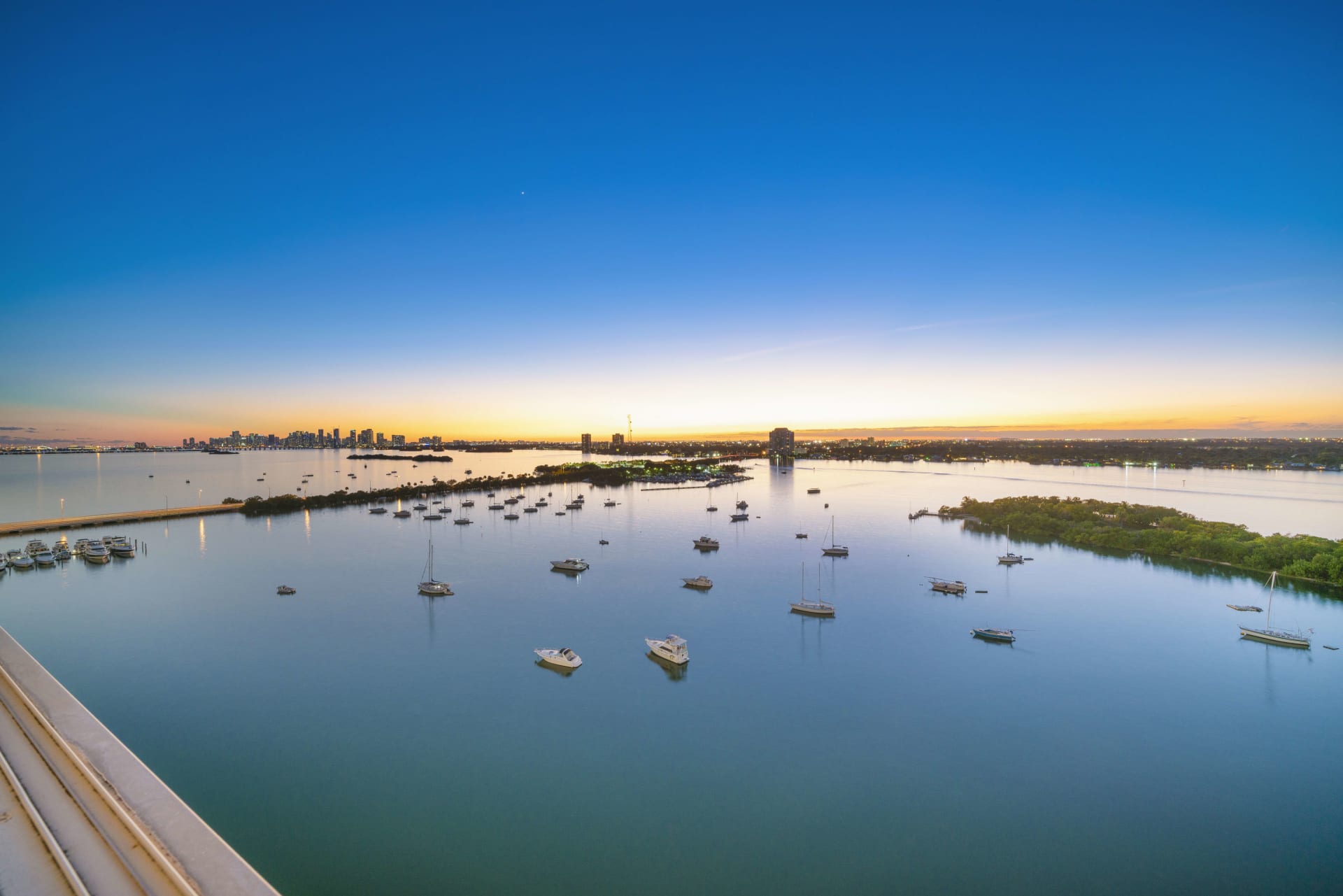 The view from a condo in North Bay Village that we sold in 2021. The building and unit sits right on the water so we know that the unit won't lose its view anytime soon.
There Are Exceptions To These Notes
A condo without reserves does not make the condo a bad property to purchase or that the condo isn't run properly. Some of the best condos I've ever sold and that have appreciated the most in value don't have a view. I also know several buildings in the area that should have more leasing restrictions to improve quiet enjoyment of the building.
The point is that these notes should be guidelines that should serve as good tools to identify good real estate. Real estate, however, still remains local in nature so nothing will replace the value of local expertise and knowledge with condominium transactions as the best possible guidance when it comes to buying.
Thank you for reading our latest post! For more information regarding this property or other Miami real estate, please contact us today! We can be reached at 305.674.4127 or via e-mail at [email protected]