Located at one of Downtown Miami's busiest intersections, NE 2nd Ave and NE 2nd St, Loft II has held a dedicated spot in our roster of listings for over half a decade. Built in 2007, it features 36 floors, 496 loft condos and was developed by Related Group. It also features a very flexible rental policy, with owners being able to lease out their units immediately after purchasing. This level of flexibility, combined with some impressive amenities, makes Loft II a favorite among investors as well as owners looking to purchase real estate as a second home. Most importantly, it offers a highly centralized location within Downtown Miami that makes it highly attractive building in the area for many.
With so many different transactions over the years, curating this post, for the sake of making it easier to read, took longer than actually writing it. Let's start from scratch, how did it all begin?
Our Loft II assignments first began sometime around 2016, when I first began to focus more in Downtown Miami real estate. Instead of plunging ahead across the board with multiple buildings, I chose to start off small, picking one or two buildings at a time in Brickell, Downtown and Edgewater, until I felt comfortable enough to handle more properties on my own. Loft II was one of the first buildings, alongside Marinablue, that I picked in Downtown. I started by getting to know the floor plans, features, and pricing and found condos for sale. We started with some rentals and then gradually shifted gears towards selling and listings units. The rest is part of our journey.
Here's a list of our work in Loft II over the past few years. This includes condos in Loft II that we have sold and condos we have also rented.
133 NE 2nd Ave #2708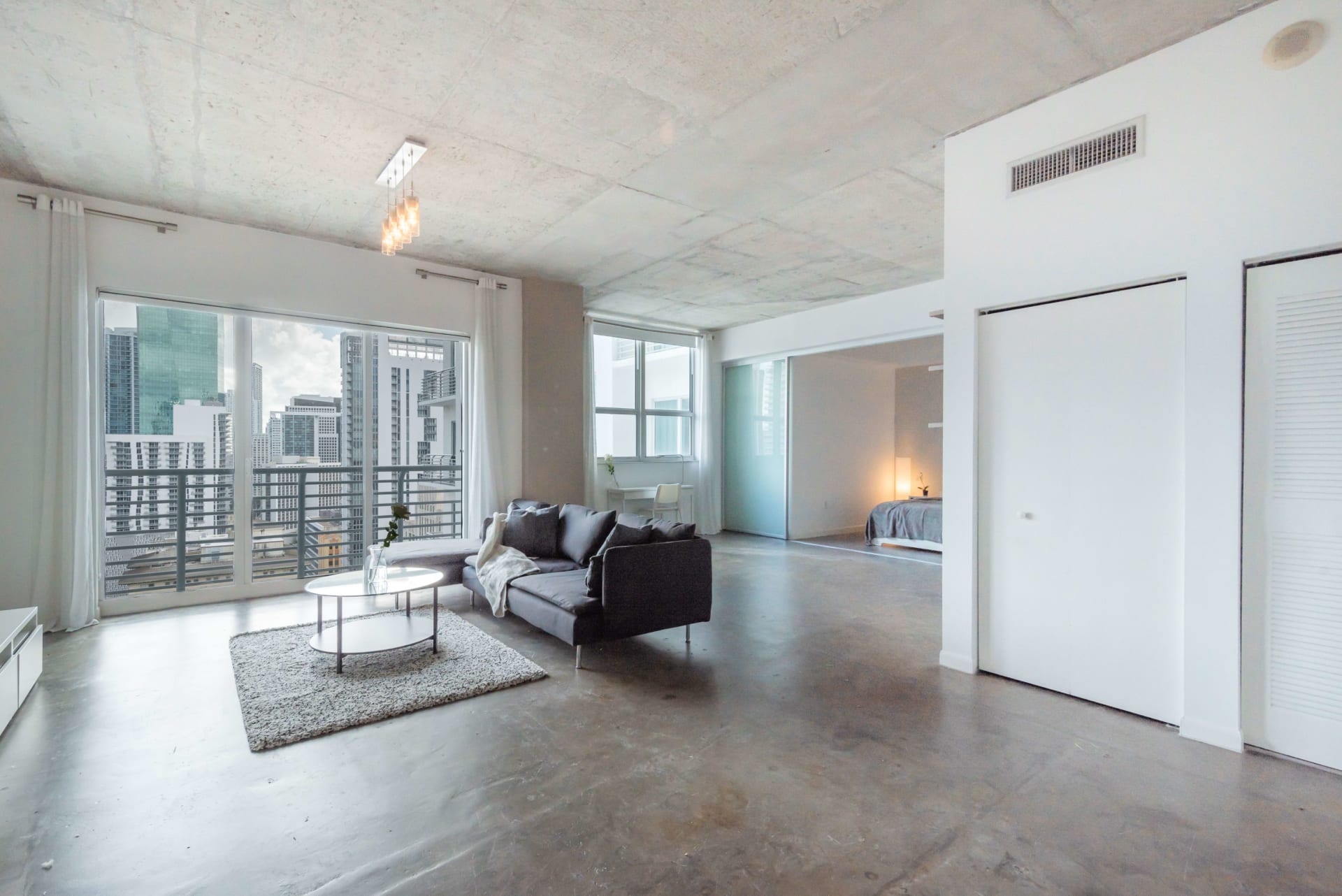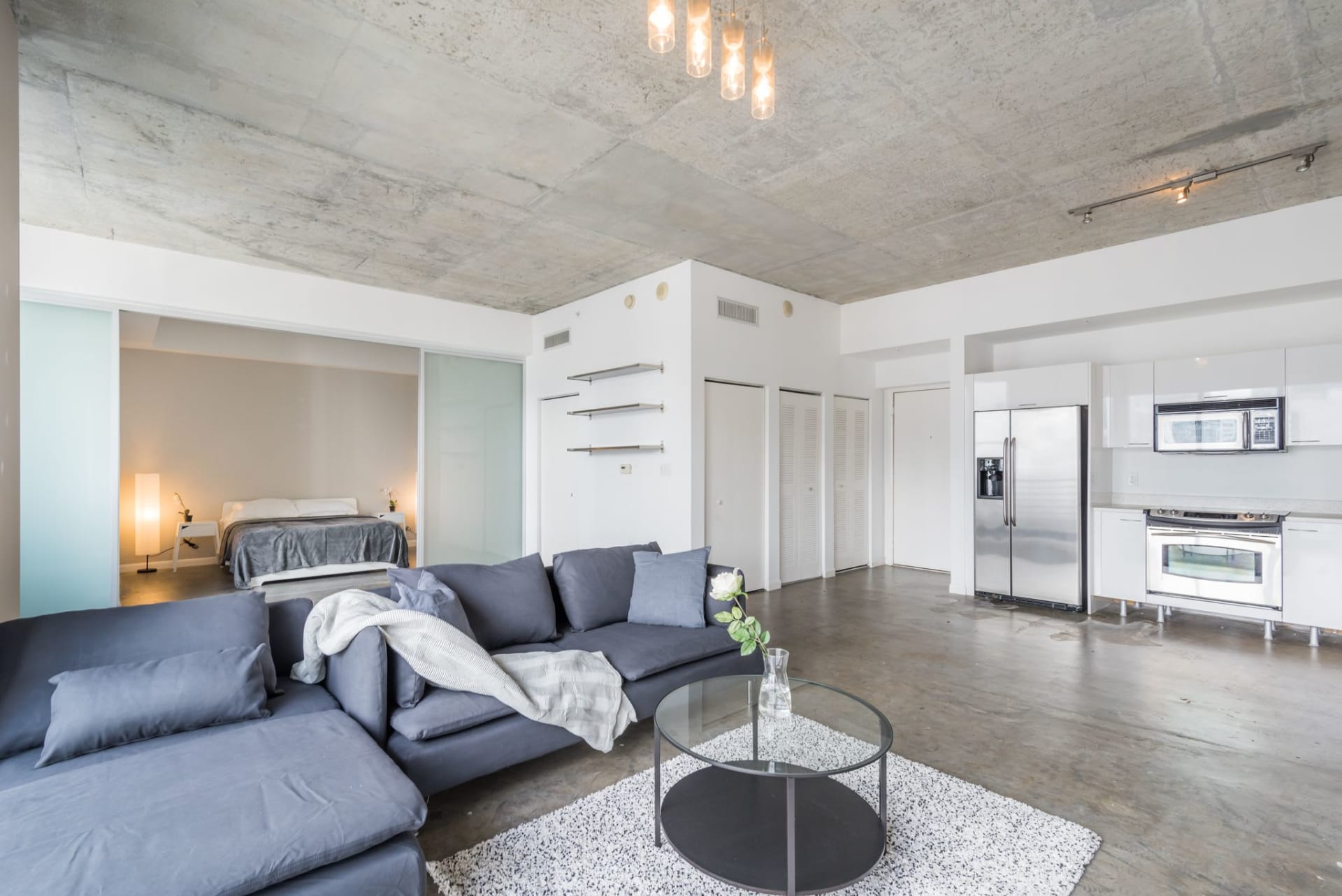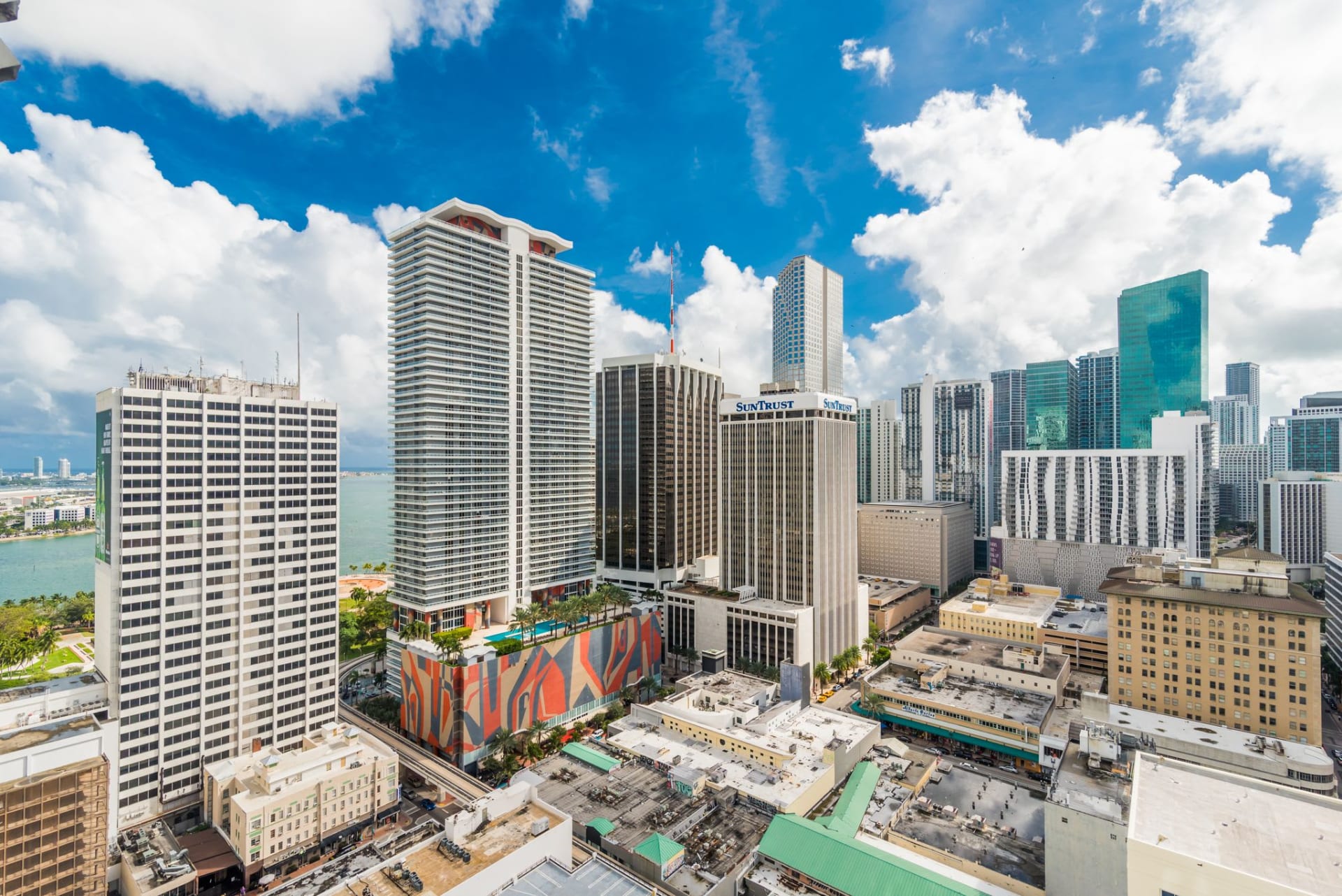 Line 08 is one of the most unique floor plans in all of Loft II. With 903 SF, it is the largest one bedroom layout in the entire building and one of only two of the one bedroom floor plans with south facing views. The layout is significantly larger and closer in size to the two bedroom layouts that are slightly over 1,000 SF. In comparison, other one bedroom layouts average just under 700 SF. If two bedrooms is too much or not within the price point and if the other one bedrooms floor plans are too small, then this is the one. This is the one to look for.
I sold this listing to its current buyer in November of 2018 for $226,000, in a transaction in which we had the privilege to represent both parties. Over the past few years, the buyer later decided to lease the unit out and it has become a staple in our rental inventory. Our most recent assignment was leasing #2708 in November of 2021 for $2,700 a month. Line 08 units have greatly appreciated in value since we last sold this unit. As of the date of this post, the most recent sale in line 08 was #1708, which sold for $375,000 in March of 2023.
#2708 may be on the market once again, for rent, before the end of 2023. Stay tuned!
133 NE 2nd Ave #2504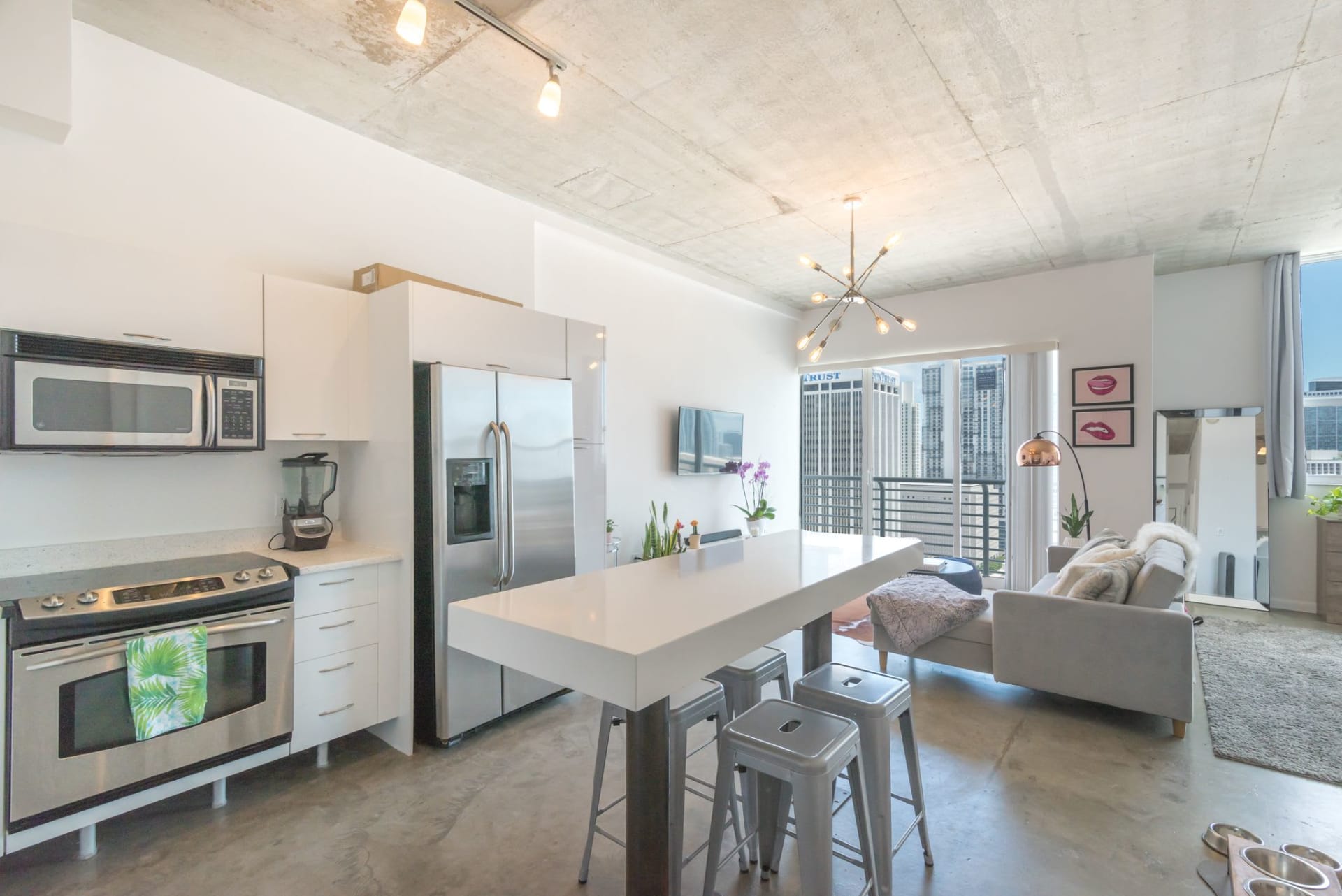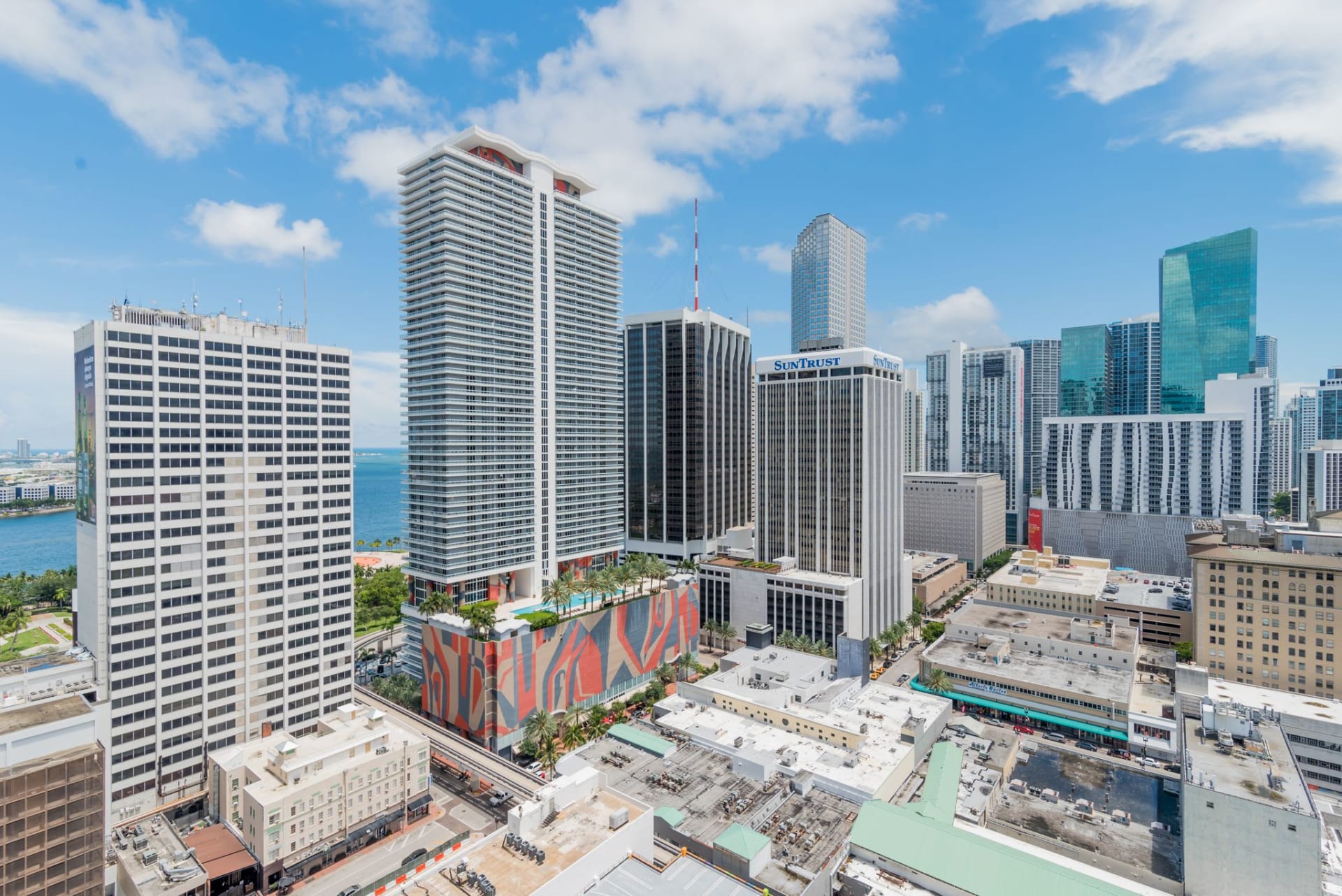 If you enjoyed the floor plan and the view of line 08, then you will also enjoy line 04, despite some key differences.
To understand line 04, imagine it to be line 08's smaller sibling but with the same character and personality. Featuring an L shaped layout with 665 square feet, it is practical, convenient, and airy. Its south facing city views are dreamy, especially after dark or after sunset during the early months of the year. Units and layouts like this one are perfect finds, whether as an investment or as your first condo in Miami.
We sold this listing for $185,000 in December 2018 and was bought for investment purposes. Our customer and I both loved the added kitchen island that added an entertaining space and visualized the potential the unit had as a rental in Downtown Miami. Units similar in size and view, now trade anywhere between $320,000- $350,000. Leases, which at the time rented below around $1,700, now trade between $2,300 - $2,600 a month. Please understand, Miami's real estate market has changed since 2018.
133 NE 2nd Ave #3402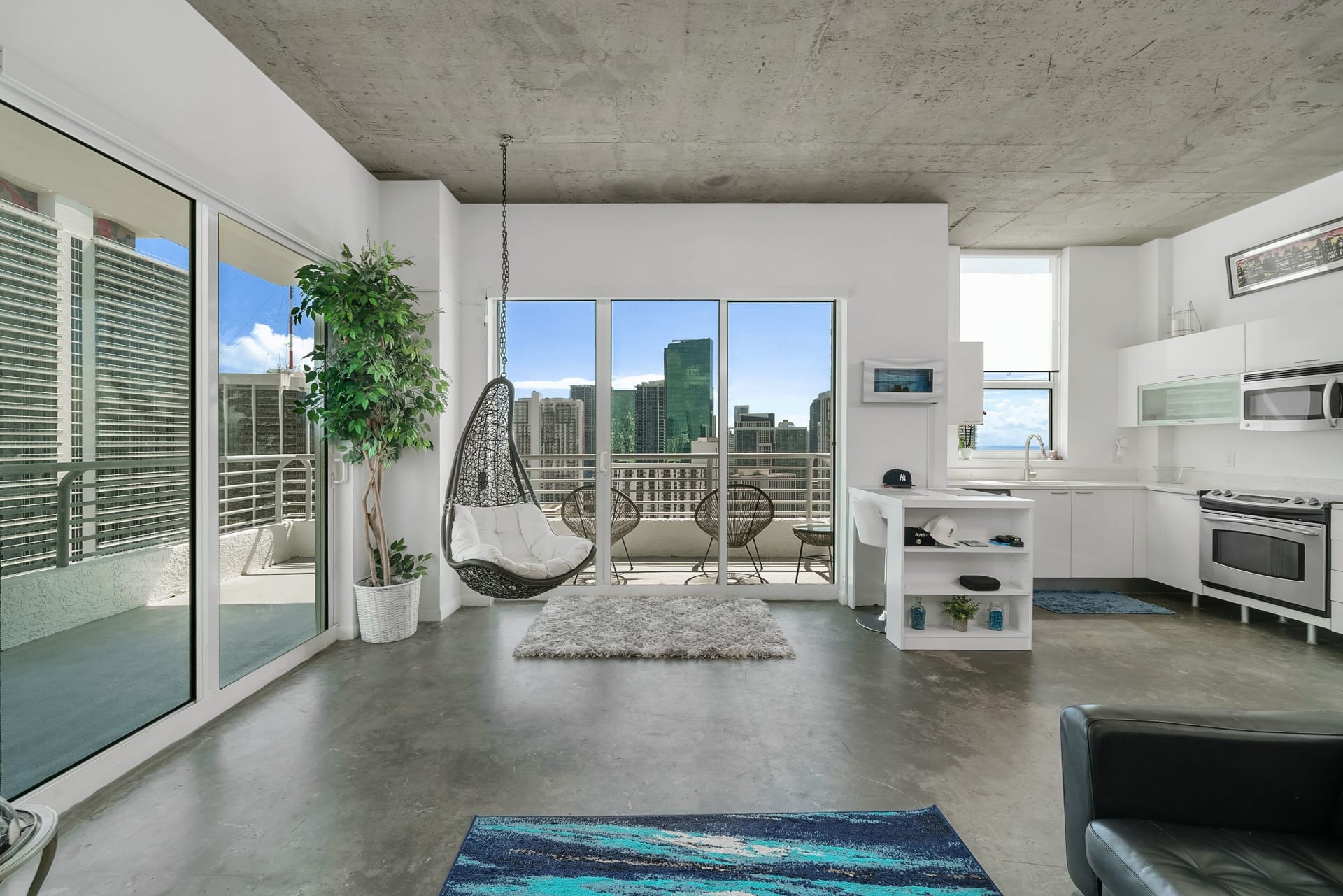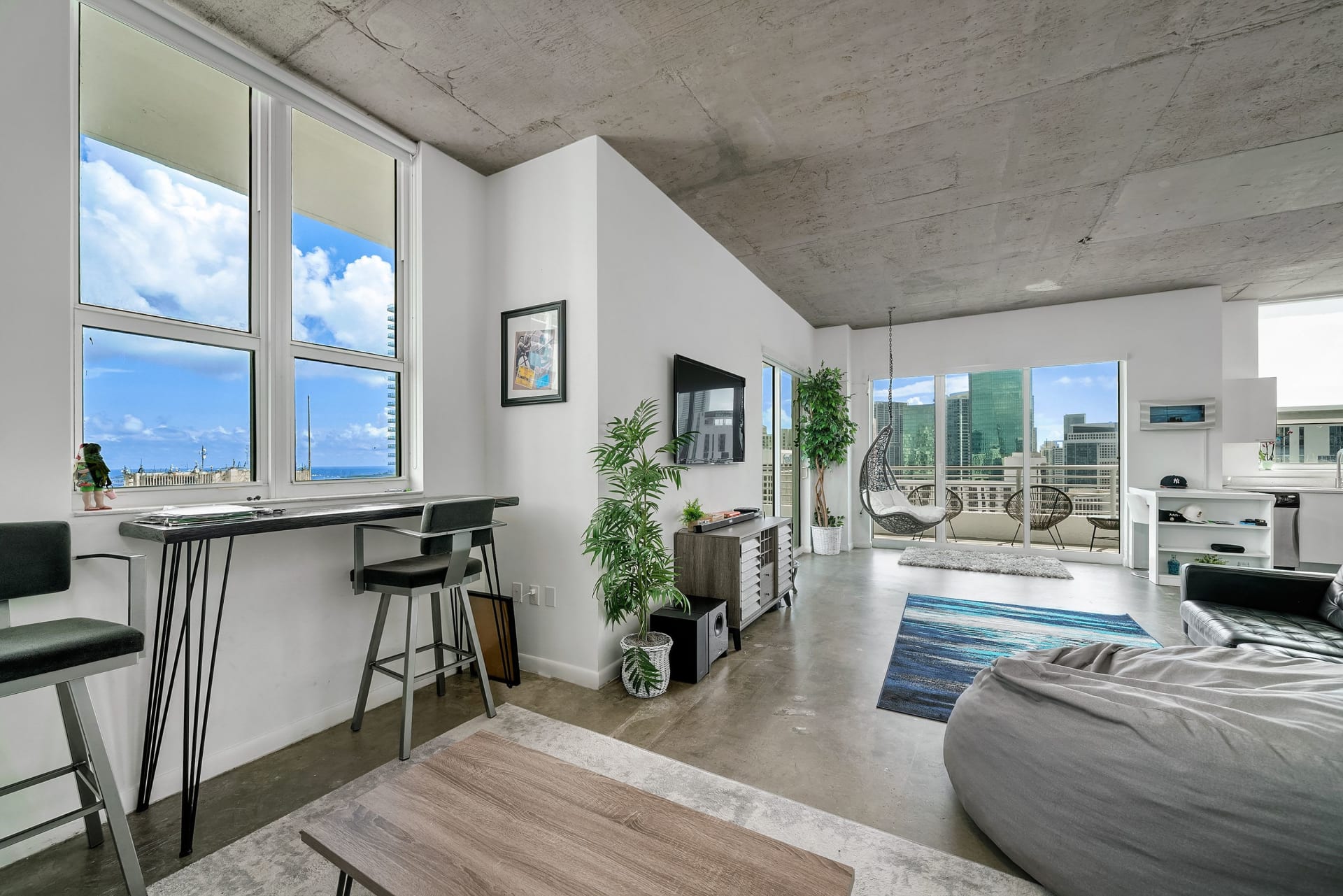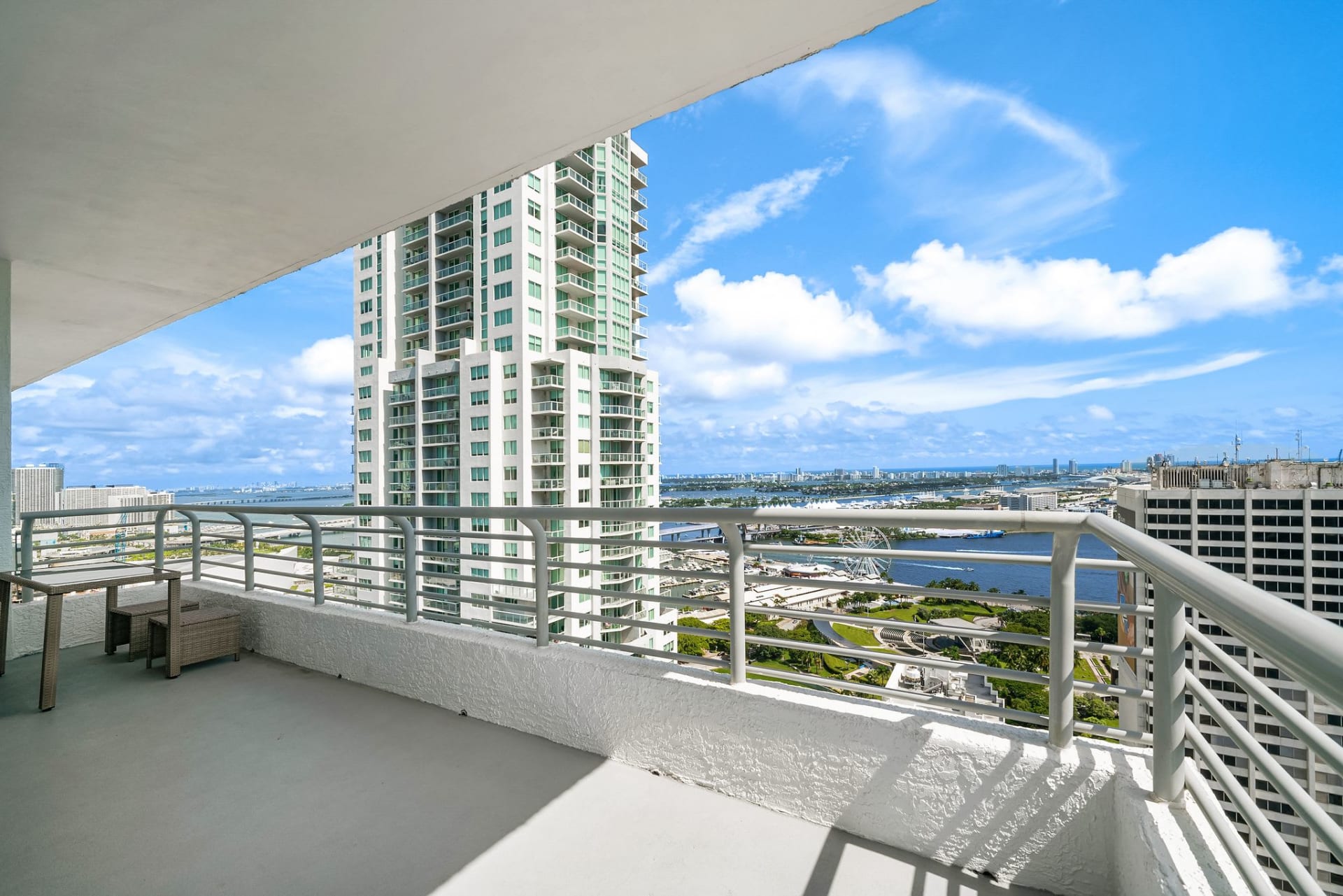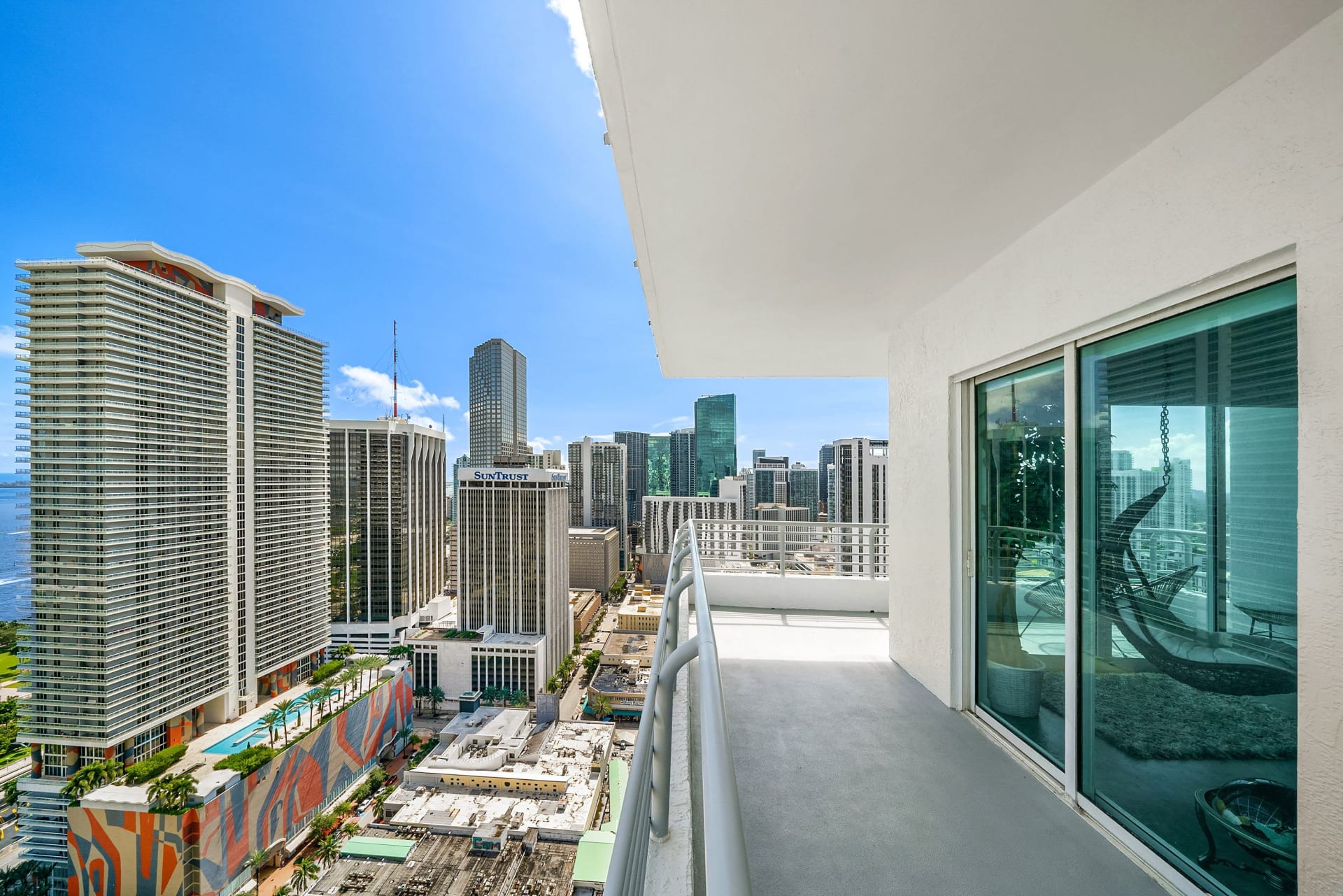 When the time came to sell #3402, we were already very familiar with the property. It was one of our previous rental listings, We had shown it, we knew what the views looked like, and what the unit was about. By the time the owner decided that the time had come to sell, we knew how special the property was and we both mutually decided that we would pull all the stops to sell the hell out of it.
Every box imaginable is checked. The unit has wider balconies than the typical Loft II unit, it has both city and unobstructed bay views, it sits among the higher floors of the building, and offers stunning layout that's larger than what its listed 1,041 SF suggests it to be. I added extra pictures above to give everyone a better idea, but nothing beats standing on that balcony in person and overlook Downtown Miami.
At the time it sold for $425,000 in January of 2022, it was a record sale for a listing that was not a penthouse. I don't miss the stress involved with the sale. Nothing back then in Loft II was selling for over $400,000, but the Seller and I stayed firm. By far, it's one of my favorite balconies that I've ever sold.
133 NE 2nd Ave #2106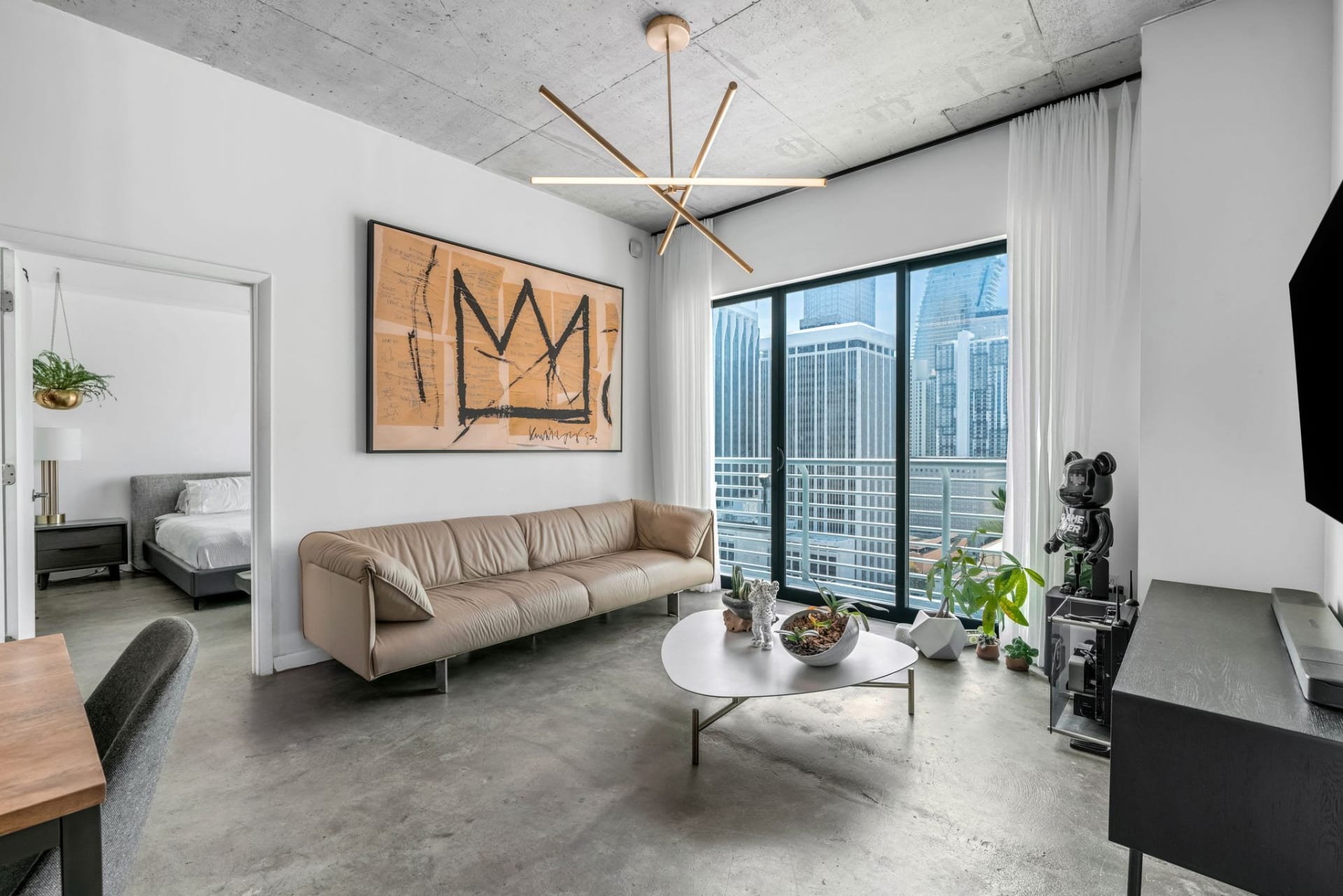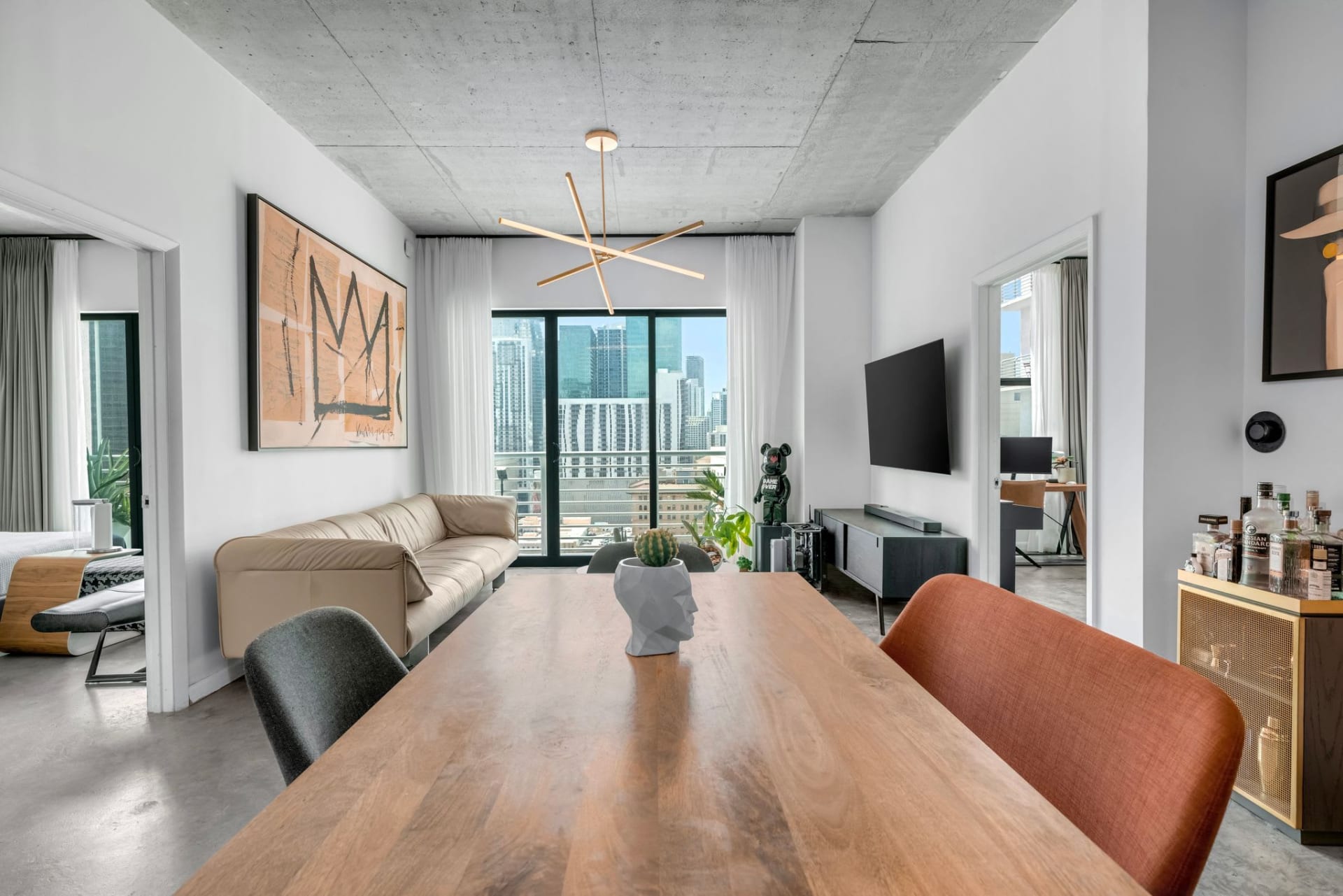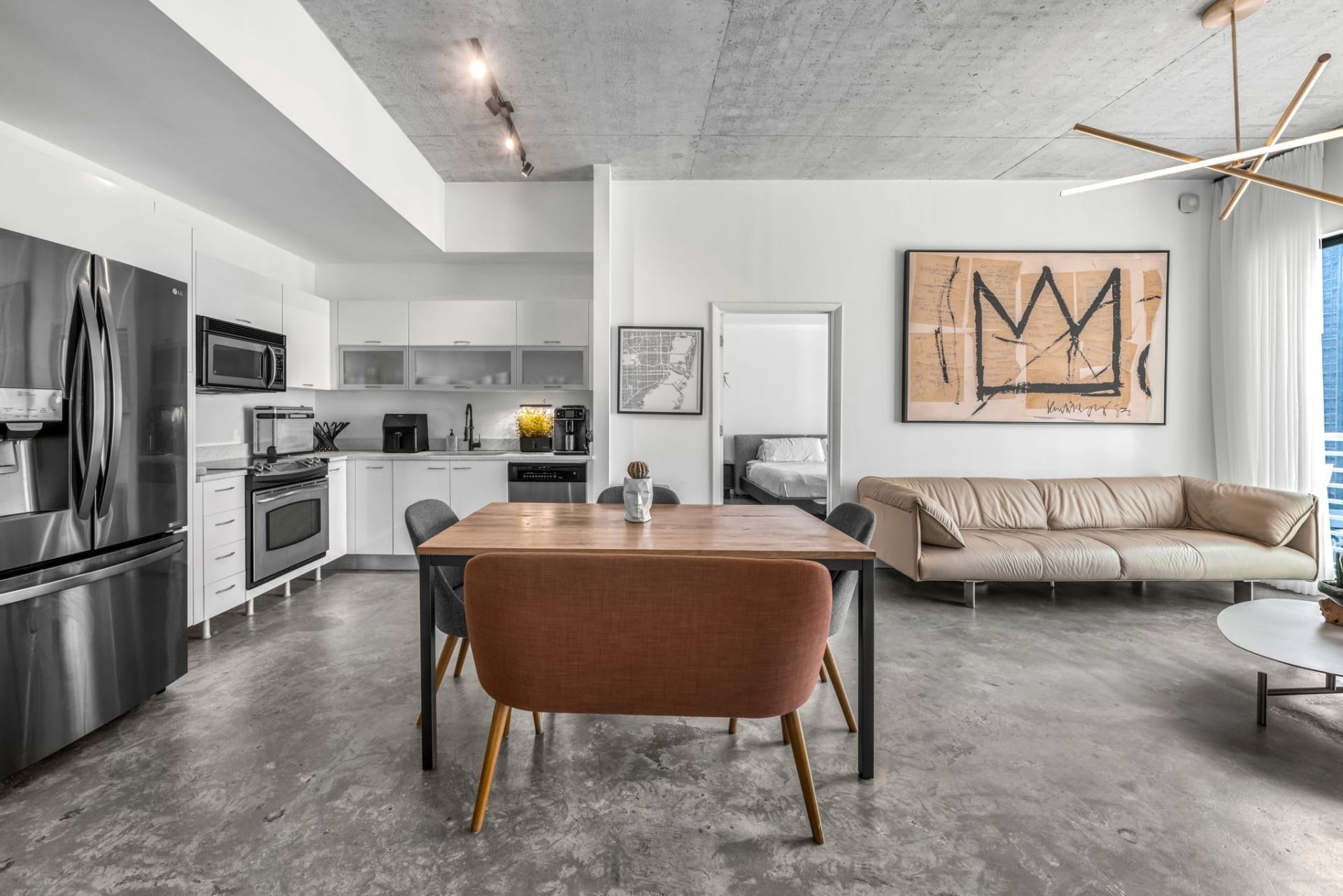 #2106 might not be our most recent sale (we sold it to the owner in September 2019 for $278,000) but it is our most recent transaction in the building. After living in the unit for several years, our customer decided that it was time for a change and reached out to us to list the unit on the market for rent.
When we saw the upgrades that that the unit had, we were eager to show this unit off to the public. #2106 features:
New stainless appliances
Nest thermostat
Upgraded closets
Nest thermostat
New closet doors
Modern window treatments
New lighting and fixtures
The 06 line in Loft II is among the most practical and sought after in the entire building. It's a split layout with two bedrooms on opposite sides, two full bathrooms, and an extensive living room. its dimensions make it ideal for roommates, or just about anyone that needs a more traditional condo layout without sacrificing the loft feel of the unit. This unit went under contract a few weeks ago and a new tenant will be moving into the unit by July. We're grateful for the owner, we had been wanting an opportunity to once again work in Loft II after working elsewhere for over a year.
Thank you for reading out latest post! For more information regarding this property or other Miami real estate, please contact us today! We can be reached at 305.674.4127 or via e-mail at [email protected]