Global luxury automotive brand Aston Martin has set out to transform the luxury residential market in Miami. With Aston Martin Residences, the new project set to be completed in 2023 is a collaboration between developer G&G Business Developments LLC and Aston Martin to create an elegant addition to Downtown Miami's skyline.

For over a century, Aston Martin has built a reputation for its craftsmanship, timelessness, and attention to detail. With an understanding of how to personalize shared spaces, the Aston Martin brand has created a new era of comfortable living with some impressive amenities.

So, if you're intrigued by high-rise condos in Miami and want a luxurious, top-of-the-line living experience, read on!
Design Aesthetic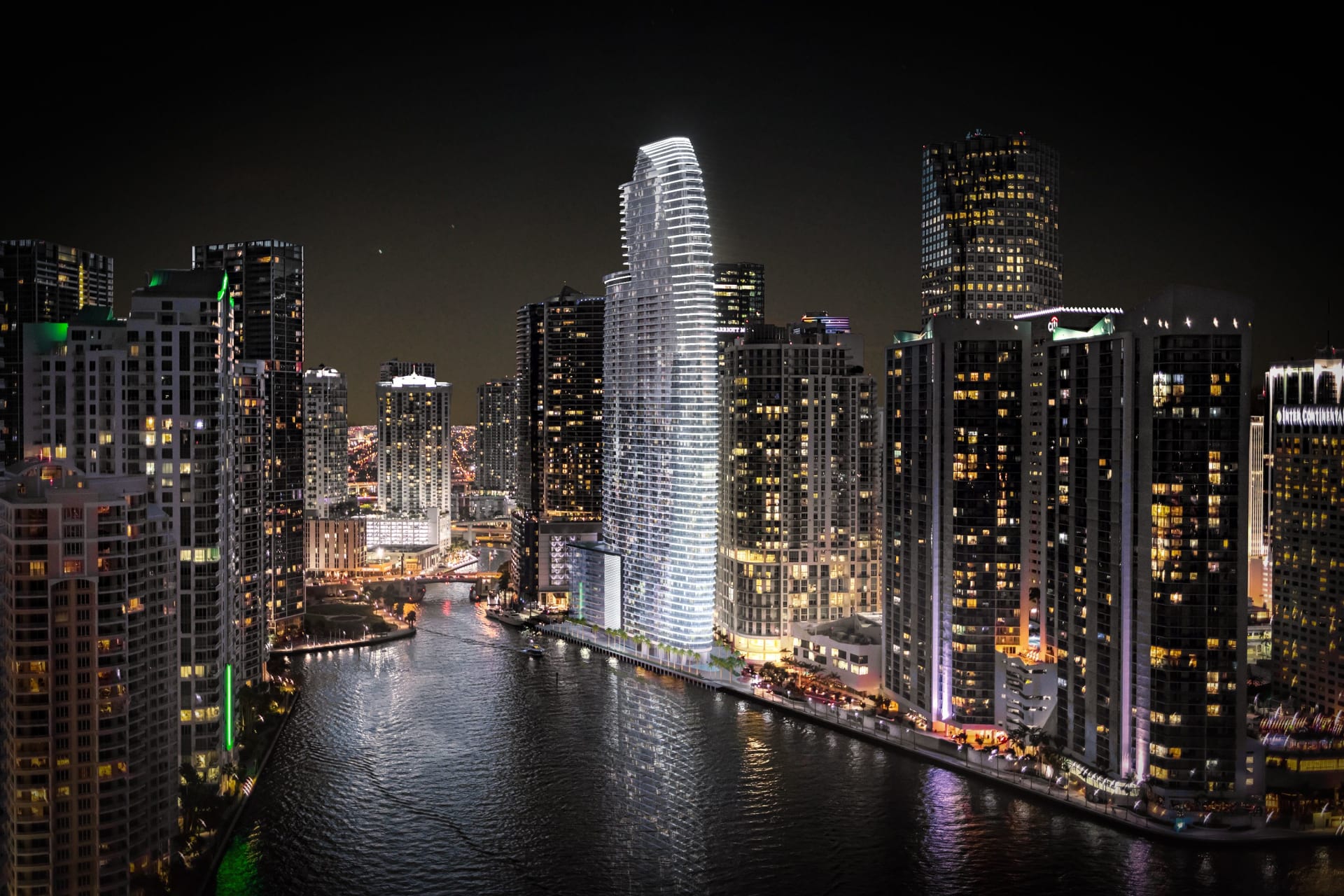 The Aston Martin condos are the first of their kind and the tower is now the second tallest building in downtown Miami as of today. The structure of the building pays homage to Miami's coastal landscape and the curvature of a classic Aston Martin sports car. Made with the exact measurements and design philosophy of the iconic car, the sail-shaped building is 66-stories high with 391 units made up of duplexes, penthouses, and a spectacular triplex penthouse. The units are customized and designed in one of 190 layouts, ensuring that every home feels unique.

The reflective glass on the outside of Aston Martin condos provides a one-way view, promising that residents still have optimal privacy with the floor-to-ceiling windows throughout the home. Residents enjoy stunning vistas of the city skyline and wide open ocean. These studio to five-bedroom residences range between 698 square feet and 3,994 square feet; penthouses range from 8,997 to 10,463 square feet.

Residents are welcomed by a 24-hour concierge service in the lobby, which will direct you to your home or assist with any other request that you may have. Arranging an outing or calling for housekeeping can be completed with ease. Experience a level of privacy and exclusivity not achieved in any other condos, with access to 10 high-speed elevators to your residence and two separate entrances. The main entrance is available to owners and guests with white glove service, and a service entrance is open to staff, contractors, and families moving in.
Amenities for a luxury lifestyle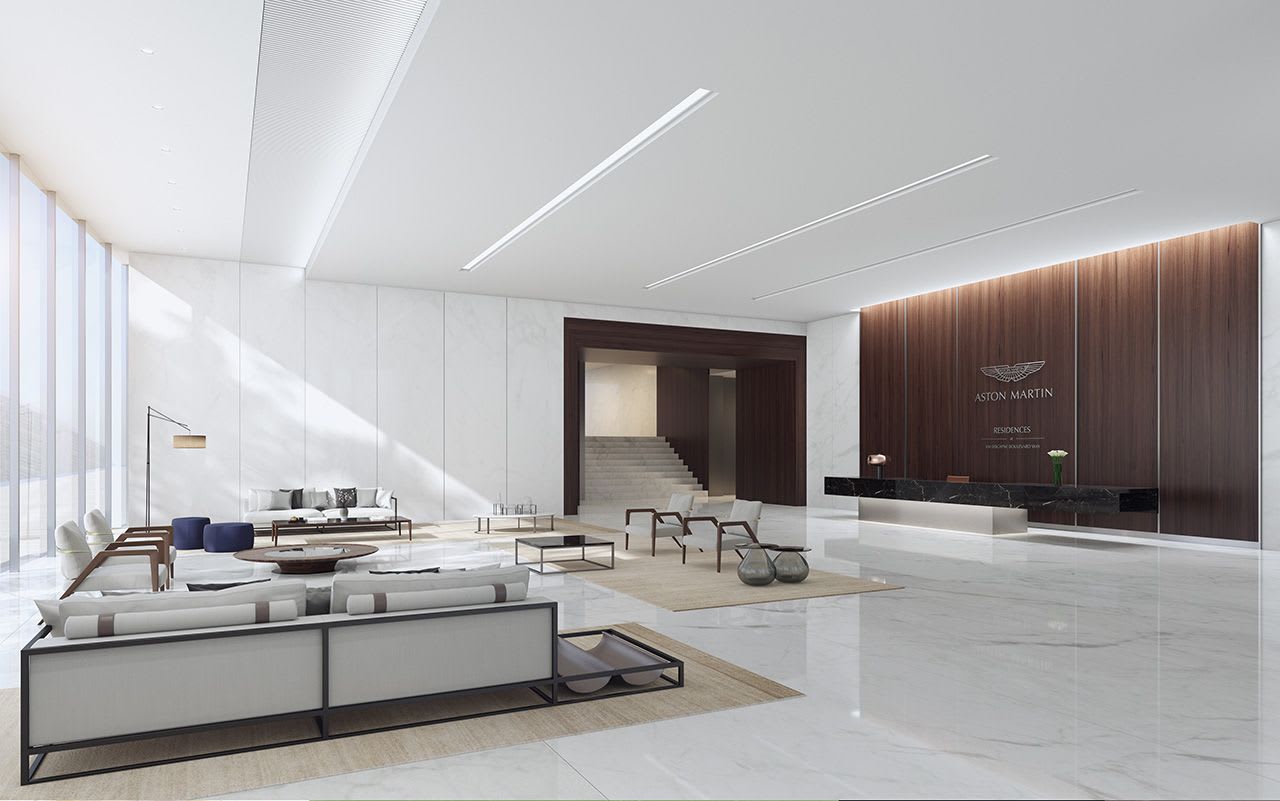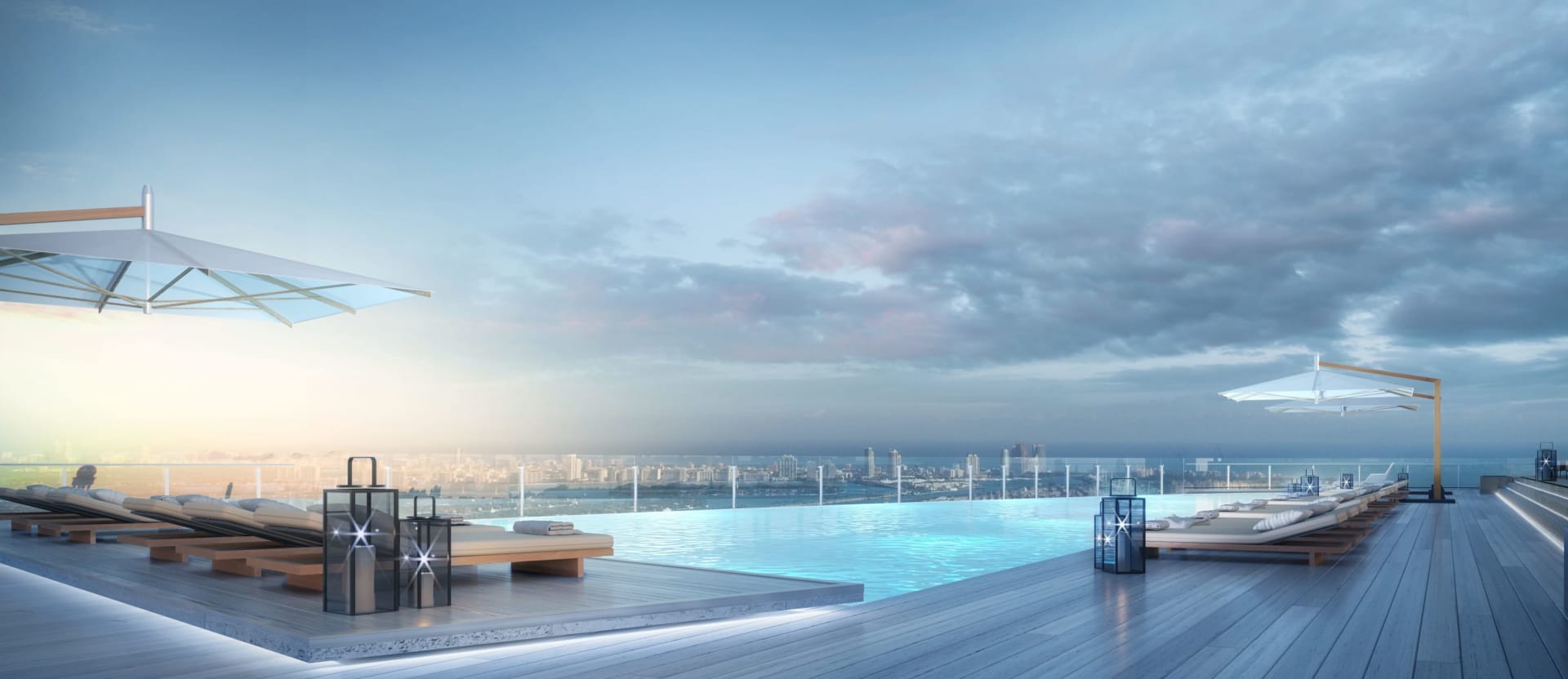 Residents of the Aston Martin condos are expected to have everything they need or could imagine. The prestigious condominium offers over 42,000 square feet of amenities across four floors, including a rooftop observatory, an on-site marina, intelligent home technology, and butler service.

Starting on the 52nd floor, you can experience the art gallery, a kid's playroom, a game room, vending area, and a business center. You can watch the sunrise from the lower fitness center on the 53rd floor or pamper yourself in the 10,000-square-foot spa with full-service treatment rooms, sauna, beauty salon, and barbershop. On the 54th floor are two movie theaters, a virtual golf course, and an upper-level fitness room. The 55th floor houses an infinity pool with a stunning sky view of the Biscayne Bay and Miami Beach, a poolside bar, a chef's kitchen, and event space accommodating up to 200 people for special events like birthdays and weddings.

A full-service yacht marina is available to accommodate 500-foot mega yachts to dock. If you don't have a vessel, you can rent one using the butler service for a complete experience of Miami's dynamic lifestyle.

All residents have access to butler service, a convenient, luxurious way to manage your lifestyle. You can call on a butler for any reason and get assistance running errands around Miami. Enjoy the perks of luxury travel support while booking excursions, flights, or luxury boat rentals. Sail to your next vacation destination from your front door.
Downtown Miami
Overlooking the Miami River and Biscayne Bay is the Aston Martin Residences, a high-end waterfront development at 300 Biscayne Boulevard Way in one of Miami's hottest neighborhoods. Owners enjoy connecting to other parks, restaurants, and museums via the North Miami walkway.
Downtown Miami
is a vibrant city that appeals to all ages. It is surrounded by chic restaurants, boutique shops, gorgeous beaches, and palm trees. The lavish Aston Martin condos are near the Epic Hotel, Midtown Miami, the Design District, and Brickell Miami real estate. If you can't get enough of the building's amenities, step into the heart of Miami and enjoy upscale dining from world-renowned restaurants like
Zuma
,
Boulud Sud
, and
Novikov Miami
.
The Aston Martin Residences
At Aston Martin Residences, the value is in the details. All residents experience endless floor-to-ceiling views of downtown Miami and the ocean.
The River Residences go from the third floor to the 14th floor and feature 10-foot ceilings. The River Residences are ideal for watching super yachts, dolphins, and manatees pass by. The Panoramic Residences on floors 15 to 45 have 10-foot ceilings, as well as 360-degree views of downtown Miami and the Port of Miami. The SkyView Residences on floors 46-51 provide an incredible picture of the entire Miami skyline and the Atlantic Ocean.
The Penthouse Residence is on the 56-62nd floors and boasts 12-foot ceilings. Said to be the mansion in the sky, the owner of the triplex penthouse on the 63rd floor also becomes the owner of a rare, 800-horsepower Aston Martin Vulcan car.
Every home is designed with custom white marble flooring, stainless steel, glass, quartz countertops, high-end kitchen appliances by Gaggenau, and sleek European cabinetry. The
Aston Martin Residences
were strategically designed to optimize light, space, and function. The bathrooms are bright with charcoal marble backsplashes and breathtaking views of Miami's turquoise waters. They are the epitome of
luxury high-rise condos in Miami
.
The Aston Martin Residences represent a new model of luxury living in Miami — a home where your values are embodied, and your needs are met. The developers of this property have created a masterpiece that redefines the South Florida luxury condominium experience. The attention to detail is unparalleled, and the exceptional quality of materials and finishes are what you would expect from the design and craftsmanship at work in a typical Aston Martin car.
Are you interested in living a life of luxury at Aston Martin Residences?
Marcelo Steinmander
is an expert at all things South Florida, from Edgewater and Brickell to South Beach luxury condos. The
team
is happy to answer your questions about all of the gorgeous residences and incredible amenities the Miami area has to offer. Get started today!